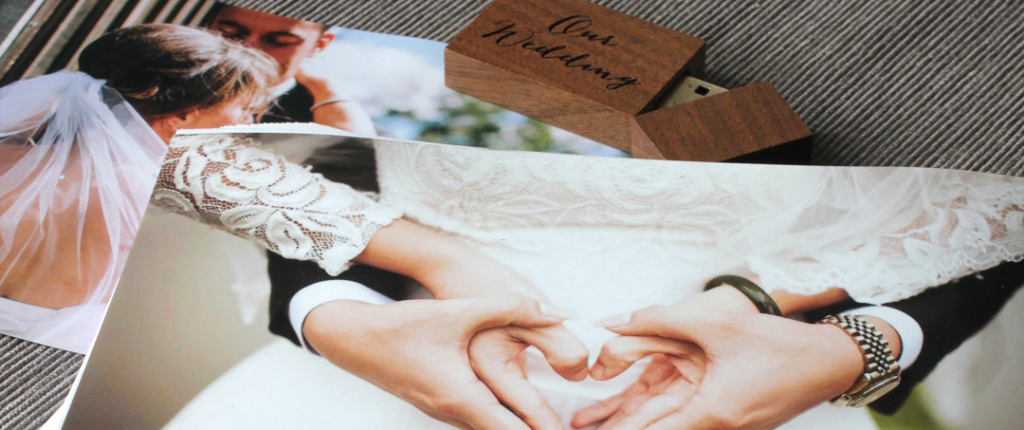 Imagine your clients' delight when they receive their USB drive elegantly encased in a custom-designed box. The experience of unwrapping the box adds an extra layer of excitement and anticipation, turning a simple data transfer into a memorable moment.
But USB boxes aren't just about aesthetics; they also enhance the overall client experience. Here's how:
Professional Presentation: USB boxes elevate your brand image by presenting your work in a sophisticated and professional manner. They reflect the care and attention to detail you put into every aspect of your photography.
Keepsake Value: USB boxes become cherished keepsakes for your clients. They have a physical reminder of their special day that they can hold, display, and revisit whenever they want.
Branding Opportunity: Customized USB boxes allow you to incorporate your logo, brand colors, and design elements. This reinforces your brand identity and makes a lasting impression.
Protection and Preservation: USB boxes keep the digital files safe from damage, ensuring that your clients' memories remain intact for years to come.

At Engraved Heaven, we understand the significance of USB boxes for photographers. Our range of customizable options ensures that your USB boxes align with your brand and exceed your clients' expectations. With attention to detail and high-quality materials, our USB boxes are a reflection of your commitment to excellence.
Elevate your client experience and showcase your photography with our USB boxes. Contact us today to explore our options and add a touch of elegance to your photography packages.